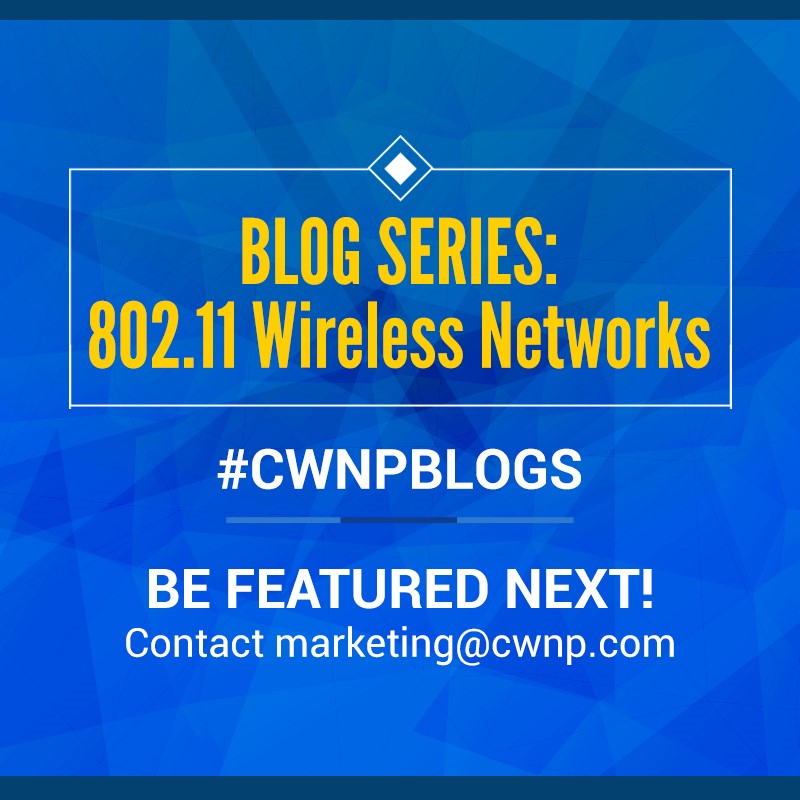 802.11 Wireless Networks
By
Tom Carpenter
On 06/06/2016 - 69
Comments
Learn the basics of 802.11 wireless networks(WLANs)
What are 802.11 wireless networks (hereinafter referred to as WLANs in this post)? A wireless network, as the name suggests, is a network that uses radio waves to connect devices, such as laptops, desktops, and mobile phones to the Internet, your organizational network, and applications hosted on your network. Wireless networks, unlike wired networks, do not use physical transmission media, such as wires and LAN cables. WLAN implementation is done at the Physical and Data Link layers of the OSI model. Implementing a wireless network enables the organizations/business establishments to reduce the cost of laying the cables for a wired network while providing high-speed data transmission, which can be used by both stationary and mobile users. A common example of a wireless network is your mobile phone network, though it does not use 802.11. Implementing a wireless network provides the following advantages:
WLANs provide mobility to the Internet user. Using a WLAN, you can be connected to the Internet or your organization's network while being on the move.
WLANs are compatible with IP networks.
WLANs provide high speed and secure data transmission.
WLANs provide ease of installation and use, and are scalable at a low cost.
WLANs evolved from legacy radio frequency data technologies. As WLANs evolved as a data transfer technology, the Institute of Electrical and Electronics Engineers (IEEE), an organization that promotes new technologies and creates standards and protocols that govern these new technologies, created the IEEE 802.11 – 1997 standard, the first standard for WLANs.
We will discuss the IEEE and other organizations that are involved in the implementation and standardization of a wireless network.
The IEEE is an organization of professionals, with its headquarters in New York City and operations center in New Jersey. Founded in 1963, the IEEE is today the world's largest association of technical professionals, which includes computer scientists, information technology professionals, software engineers, and physicists. The IEEE is primarily involved in educational and technical advancement of electrical and electronic research, computer engineering, telecommunications, and similar disciplines. For more information about IEEE and how it came into existence, refer to the http://en.wikipedia.org/wiki/Institute_of_Electrical_and_Electronics_Engineers web page.

The IEEE formed the IEEE 802 LAN/MAN Standards Committee (LMSC) that develops and maintains networking standards and protocols for various network technologies, such as Ethernet, wireless networks (LAN, PAN, and WAN), media independent handover devices, and other such technologies. This LMSC committee has a working group for each of these networking technologies, some of which are given below:
802.1: Higher Layer LAN Protocols working group
802.3: Ethernet working group
802.11: Wireless LAN working group
802.15: Wireless Personal Area Network (PAN) working group

For more information all the working groups of the IEEE 802 LAN/MAN Standards Committee, refer to the http://www.ieee802.org/ web page.

The 802.11 Wireless LAN working group came into existence in 1991 to create standards for 1 MB/sec Radio Frequency (RF) based data network technology. This working group provided the first 802.11 standard in 1997, called the 802.11 Wireless LAN standard, which is implemented at the Physical Layer and the Data Link Layer of the OSI model. The 802.11 standard has now become the basis for all the development and updates in the field of WLAN data network technology.

Another organization that is involved in creating standards for Internet technologies is the Internet Engineering Task Force (IETF). The IETF works to standardize Internet technologies and protocols especially the Internet Protocol Suite (TCP/IP). Initially, IETF started as an activity supported by the United States federal government but from 1993, it started working under the Internet Society umbrella, an international membership-based non-profit organization, to develop networking standards. For more information about IETF, refer to the https://www.ietf.org/ and http://en.wikipedia.org/wiki/Internet_Engineering_Task_Force web pages.

IETF develops standards using the process called Request for Comments (RFCs). An RFC is a document that is authored by computer scientists and engineers in the form of a memorandum to describe methods, behaviors, innovations, or research results for the working of the Internet or Internet-related systems/technologies. Some of these RFCs are adopted and implemented as Internet standards. Since its invention by Steve Crocker in 1969, the RFC is now an official document for Internet communications and network protocols. Some of the IETF RFCs that have been adopted as standards, and implemented to build either a wireless or a wired LAN network are:
IPv4
DNS
IPSec
IPv6
DNSv6
DNSSEC
Routing protocols
The following figure illustrates a typical RFC document.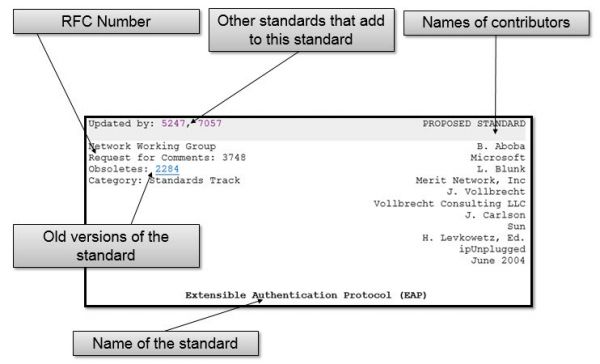 You can search for all the available RFCs and download their PDFs from the http://www.rfc-editor.org/search/rfc_search.php web page. Some of the RFCs that affect WLANs are:
 EAP (RFC 3748) – The Extensible Authentication Protocol (EAP) is the primary standard used for WLAN security in enterprise deployments. It allows for many different implementations and provides only the core framework.
 RADIUS (RFC 2865) – The Remote Authentication Dial-In User Service (RADIUS), so named as it was created for modem connections, still provides for backend protocol with authentication servers and is a primary solution used in WLANs.
Our next blog will talk about Wi-Fi Alliance, an organization associated with Wi-Fi certifications and interoperability.
Tagged with: CWNP, Wireless, Wi-Fi Certification, wifi certification, wireless certification, IT Professional, WLAN, WLAN Certification, CWTS, CWNA, CWAP, CWSP, CWDP, CWNE

Blog Disclaimer: The opinions expressed within these blog posts are solely the author's and do not reflect the opinions and beliefs of the Certitrek, CWNP or its affiliates.