CWNP hosts a fast-paced Twitter chat every 2nd and 4th Tuesday of the month at 1pm EST for forty-five minutes. The live chat covers various WLAN topics and helps bring community members together to ask questions and share knowledge. 
Upcoming Twitter Chats: 
March 26th - WPA3 and OWE
April 9th - Programming Wi-Fi
April 23rd - 20 Years of 5GHz Wi-FI
May 14th - Analogistic Wi-Fi
May 28th - Data Rates and WLAN Performance
Stay Tuned For More to Come
Have a question you want to be discussed in a future Twitter Chat? Tell us what you want to talk about!
Join us:
1pm EST the 2nd and 4th Tuesday of the Month on Twitter with #WLANChat
Before the Chat:
Add the chat to your calendar and make sure to show up on time

1pm EST the 2nd and 4th Tuesday of each Month

If you are not familiar with Twitter Chats, do some research. We suggest starting with: How does a Twitter Chat Work?
Follow @CWNP 
10 Minutes Prior to Start:
During the Chat: 
Questions will be provided every 5-8 minutes with Q1, Q2, Q3, etc.
Feel free to reply or comment with A1, A2, A3, etc. and the hashtag #WLANChat and @CWNP
Q&A Format: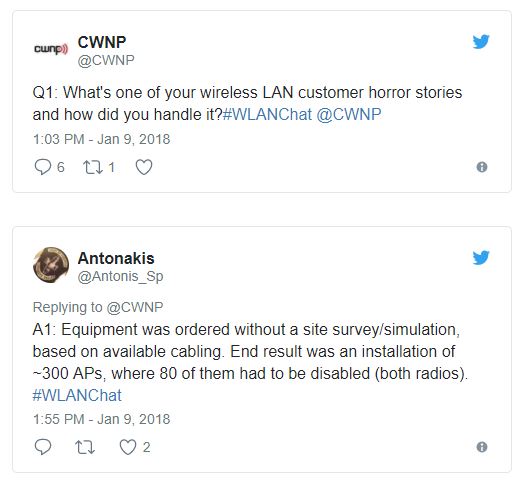 *Pro Tip: Have the hashtag copied to your computer's clipboard to help you join the conversation quickly. If you don't have the hashtag in your Tweet, it will not show up as a part of the chat. 
Past Chats Archive:
December 12, 2017 - Best Resources for Wi-Fi Newbies
January 9, 2018 - Practical Advice: How to Work with Tricky Customers
January 23, 2018 - Wi-Fi Career Paths
February 13, 2018 - Standards: What, Where & Why
February 27, 2018 - Stalling in Wi-Fi: Regain the Glow
March 13, 2018  - IoT & Wi-Fi Design
March 27, 2018 - Live from the CWDP JTA
April 10, 2018 - APs in your Environment
April 24, 2018 - Wi-Fi Analysis
May 8, 2018 - Biggest Challenges in Wi-Fi Design 
May 22, 2018 - Wi-Fi Hardware