Augmented Reality Will Change The Training Industry
By
Riley Jordan
On 10/17/2023
As industries and workplaces ride the wave of digital transformation, new tech can transform employee training experiences through greater efficiency and learning outcomes.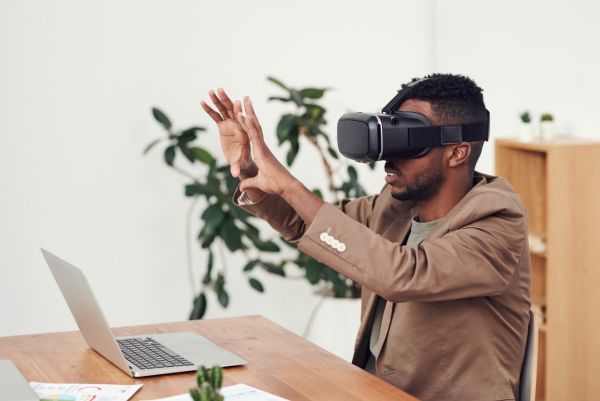 [IMAGE: https://images.pexels.com/photos/3183187/pexels-photo-3183187.jpeg]
Credits: Pexels
As industries and workplaces ride the wave of digital transformation, new tech can transform employee training experiences through greater efficiency and learning outcomes. For instance, the ability of 5G and the IoT (Internet of Things) to facilitate low-latency communication has enabled employers to provide real-time information to employees with no delays or lags compared to traditional instruction. These software and applications have paved the way for data-driven training program design, implementation, and evaluation.
Yet another emerging technology that is increasingly becoming relevant in the training industry is augmented reality (AR), which refers to an interactive experience that simulates and enhances the real-world environment with computer-generated content. Here's a closer look at how the immersive nature of AR can cultivate engagement, safety, and confidence in the training process.
Boosts information retention and engagement
Whereas traditional learning relies on standard, pre-determined materials like handbooks and lectures, AR-based employee training allows for more flexibility and accessibility. In skilled labor like manufacturing, AR headsets can provide real-time, step-by-step instructions during on-the-job training, allowing workers to better retain information, knowledge, and skills.
Meanwhile, AR also benefits the gamification aspect of corporate learning, wherein employees can personalize their own learning pathways and acquire information via interactive platforms like videos, simulators, and games. Although AR with virtual reality (VR) has yet to gain the same traction in corporate settings as in education, a study predicts that 14 million US employees will use AR glasses for on-the-job tasks and training by 2025. Employees can use the tech to visualize work-related scenarios in virtual environments and emerge from the training programs feeling more productive, engaged, and happier at work.
Reduces high-risk scenarios
When used with wearable devices, AR can also reduce the risk of error and injury when training in particularly hazardous workplaces. Trainees in the construction industry can use smart glasses that can display interactive site maps, floorplans, and navigational cues in a hands-free manner instead of tablets and smartphones that can interfere with on-site work. Moreover, eyewear brand Ray-Ban's flagship smart glasses, Smart Stories, also have audio, photo, and video capabilities to capture and relay project progress in real-time, as well as communicate safety and hazard information on the job site.
Since Smart Stories are also being developed with Meta for more advanced AR capabilities, they can be utilized for life-like demonstrations of heavy machinery and complex equipment operations. Smart glasses wearers can thus see the equipment in action without having to expose themselves to hazardous materials and situations.
Prepares trainees for practical learning and applications
Lastly, the 3D visualizations and simulations in AR and VR are crucial in preparing trainees to be confident in facing complex, real-life situations. Instead of learning from textbooks and video demonstrations, medical trainees, in particular, can practice repeatable surgical exercises with ease and precision. They can train motor skills with the three-dimensional ability required in surgery, take a closer look "inside" the body for anatomy and physiology, and even train together with nurses and fellow physicians via multiplayer experiences.
This practical learning also applies beyond healthcare, extending toward advancing the knowledge and understanding of radio frequency (RF) technologies and wireless networks, as set forth by the CWNP. Imagine a scenario where you are teaching a class on the topic of IoT deployment. Instead of simply explaining the process, you have an AR-assisted learning process that includes virtualized deployment of IoT devices. Additionally, the learning process could allow the students to visualize RF moving through the space in 3D. Such a learning experience can certainly assist individuals in mastering complex wireless technologies. Overall, this hands-on learning and application can also equip them with essential soft skills like critical thinking, decision-making, and collaboration since they can directly interpret and interact with their training environments.
Just like 5G and IoT, the introduction of AR in the training industry is not without any challenges. Aside from logistics and costs, wearable AR devices can host malware and compromise personal and company data, thereby demanding cybersecurity training and awareness among employees and trainees before being deployed in the workplace.
Tagged with: cwnp, augmented reality, training industry, wi-fi training, wireless, technology, ar, training, IoT, 5g, employee training

Blog Disclaimer: The opinions expressed within these blog posts are solely the author's and do not reflect the opinions and beliefs of the Certitrek, CWNP or its affiliates.