Becoming an Agent of Change - An Introduction
By CWNP On 04/09/2010 - 8
Comments
My name is Mark Elliott I am a former US Coast Guard Officer and a 15 year IT professional manager having served on both sides of the Purchase Order as both an IT Director and as a Post and Pre Sales Engineering Manager. My good friend Kevin Sandlin of CWNP has invited me to start this blog to highlight my faith based humanitarian service and how I use IT technology to change the plight of the poorest and sickest people of this world.
In our IT world we view emerging technology as being major agents of change in our profession and our clients' businesses. I would argue that technology is merely a tool that people in our career field use to bring about paradigm changes in the way corporations perform their critical tasks or deliver their goods.  We the IT professionals, R&D Engineers, Sales Engineers and yes even the sales force themselves are the true agents of change.  We create the technology and then package it and market it to our clients who then use it in their own business models to change the world we live in.
Think about the last 20 years we have gone from 9.6 KB dial up connections, to serial connections, to TCP, to 1Mb Ethernet, to Token Ring, to10Mb Ethernet, to 100 Mb Ethernet, to Multi-Trunking, to the Internet and to the 802.11 wireless protocols that now power most businesses, coffee shops and even our homes.  As we have evangelized these new technologies we have not only facilitated in their acceptance but we have also had our own quality life improved through these technologies.  Who could imagine our lives without ATMs, cell phones, PCs, digital cameras and wireless connectivity?
On 9/11 I sat in on an Inktomi sales training meeting on the 32nd floor of the Gracie Building in NY.  Our team watched the initial attacks and the aftermath of that cowardly act.  While I support our military's efforts on the war in terror, I also recognized that we needed to show the poor of this world the compassionate nature of our country.  My family worked the next 3 years to pay off our bills and in March 2004 we left our $250,000 combined salaries and became non-paid volunteers at Mercy Ships, a Christian hospital ship organization that every year provides 25,000 free medical and dental procedures to the poorest people in these war torn countries.  We also perform capacity building programs for the Ministries of Health, training their administrative staff and building medical infrastructure.
I have had the opportunity to work on IT and Telemedicine solutions for our ship and these devastated countries as they strive to rebuild their nations and their ability to care of their poorest citizens.  It has truly been the best job in my life, knowing everyday that I am using technology to save and change people's lives.  This role has great risks for failure because we must not only deal with questionable national governance but also a culture where little is expected from the government systems.
In the last 6 years I have had the privilege to serve in the Dominican Republic, Benin, Liberia, South Africa, Sierra Leone, Ghana, Kenya, Congo, Guinea, Togo, and earthquake ravaged Haiti.  It is my hope that this blog will encourage you to be an agent of change in this world.  Whether it is in your own neighborhood or somewhere on the other side of the world use this technology and skills to make a difference in other people's lives.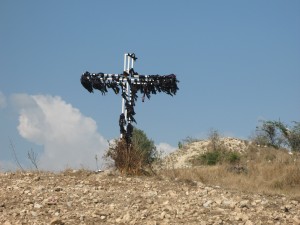 This cross marks the mass graves holding 120,000 bodies. Haiti the poorest nation in this hemisphere prior to the earth quake lost 85% of it medical infrastructure and staff in the 30 seconds. It also lost its banks, telecoms, and its facilities needed to govern its population.  As this nations rebuilds they can use our technologies to leapfrog past wired based legacy technology and embrace cheaper and more dynamic solutions to meet these people's dire needs.   Are you up for this challenge?
Be blessed as you bless others,
Tagged with: Mercy Ships, Elliott Adventure

Blog Disclaimer: The opinions expressed within these blog posts are solely the author's and do not reflect the opinions and beliefs of the Certitrek, CWNP or its affiliates.