CWSP® - Certified Wireless Security Professional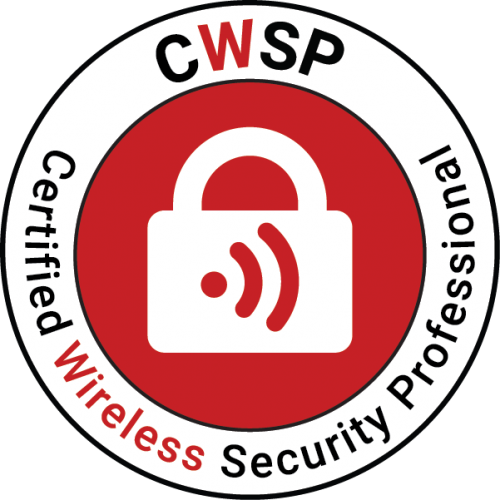 Current version:  CWSP-207 released in January 2023 (CWSP-207 Exam will expire December 31, 2025)
Next scheduled update: CWSP-208 releasing in September 2025
Secure new opportunities. Do you know how to assess the vulnerability of a network and help prevent attacks before they happen? Do you know how to perform WLAN security audits and implement compliance monitoring solutions? Do you have experience setting up Wireless Intrusion Prevention Systems (WIPS)?
Today's wireless network security professionals need to have a deep understanding of the latest software, tools, trends and technologies available. Security professionals are often counted on to advise on security policies (i.e. password and acceptable use). Plus, these experts are responsible for configuring an entire network's Security Design and Architecture.
Measure your skills and knowledge with this professional-level certification and get on track toward ultimately earning your Certified Wireless Network Expert (CWNE) certification. Those that pass the CWSP exam earn credit towards a CWNE certification.
What it takes to become a CWSP:
The CWSP certification is a professional level wireless LAN certification for the CWNP Program. To earn a CWSP certification, you must hold a current and valid CWNA credential. You must take the CWSP exam at a Pearson Vue Testing Center and pass with a 70% or higher. Instructors must pass with a 80% or higher. However you choose to prepare for the CWSP exam, you should start with the exam objectives, which cover the full list of skills tested on the exam.  The CWSP certification is valid for three (3) years. To recertify, you must have a current CWNA credential and pass the current CWSP exam.  By passing the CWSP exam, your CWNA certificate will be renewed for another three years.
Main areas covered by CWSP
WLAN Discovery Techniques

Intrusion and Attack Techniques

802.11 Protocol Analysis

Wireless Intrusion Prevention Systems (WIPS) Implementation

Layer 2 and 3 VPNs used over 802.11 networks

Enterprise/SMB/SOHO/Public-Network Security design models

Managed Endpoint Security Systems802.11 Authentication and Key

CWSP-206 Exam Objectives 2019 (CWSP-206 Exam will expire June 30, 2023)
CWSP-207 Exam Objectives 2022 (CWSP-207 Exam will be available in mid-February)
Management Protocols
Enterprise/SMB/SOHO/Public-Network Security Solution Implementation

Building Robust Security Networks from the ground up

Fast BSS Transition (aka. Fast/Secure Roaming) Techniques

Thorough coverage of all 802.1X/EAP types used in WLANs

Wireless LAN Management Systems (WNMS)

Authentication Infrastructure Design Models

Using Secure Applications

802.11 Design Architectures

Implementing a Thorough Wireless Security Policy
CWSP Exam Summary:
Everything you need to prepare is right here:
Questions:
Send us an email or call 866.438.2963.