CWTS: Almost Gone But Not Forgotten.
By
Robert Bartz
On 12/13/2018
CWTS, a CWNP certification has been immortalized within the walls of the Library of Congress. Yes, it might be phased out, but it is not forgotten in the industry where learning the Why of Wi-Fi makes the difference between installing the good and installing the best. 
December 31, 2018 is just around the corner. This date stands out for a few reasons. Another year has passed by, I am a year older, and it is the last day to take the Pearson VUE exam for the CWNP Certified Wireless Technology Specialist (CWTS) certification as the exam will be retired on this day.
What is CWTS?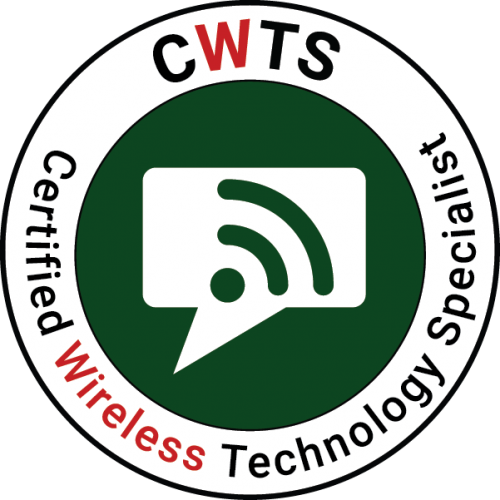 The CWTS certification was created by CWNP (Twitter @CWNP) as a gateway to the world of vendor-neutral standards-based IEEE 802.11 wireless network training and certification. This entry level certification is geared toward sales, marketing, project management, help desk, and first line technical support individuals that need to understand the fundamentals of standards-based wireless networking. The CWTS is the "what it is, not how it works" of IEEE 802.11 wireless networking.
Since I am the author of all three CWTS study guides by Sybex over the past nine years, this certification is very near and dear to my heart. Anyone that has written a technical book knows the amount of time, energy, and dedication that goes into such a project. I was given the opportunity to write the 1st edition CWTS study guide published in 2009, the 2nd edition published in 2012, and the 3rd edition published in 2017. The main reason I took on the task in the first place was to be able to share my knowledge of wireless networking with anyone that is able to have time to read the book and learn about this great technology that is continuously evolving.

CWTS - What now?
Recently my wife and I took a trip to Washington D.C. to enjoy a short vacation to our nation's capital. Although I have been there several times in the past, there are always so many activities and so little time. This last trip was extra special because my wife and I attended our son's wedding in this amazing city. It was a wonderful wedding in a park on a beautiful Spring Saturday afternoon. It was such a special day to see our son and his lovely fiancée start their lives together as husband and wife.
Something I have always wanted to do in the past while visiting this city but was never able to fit into the schedule was to visit the Library of Congress. This is one of the many places to see some of the nation's history. I have known for some time that a copy of the first technical book I authored, the "CWTS Certified Wireless Technology Specialist Official Study Guide" by Sybex was located in the library, and this year, I decided to visit it.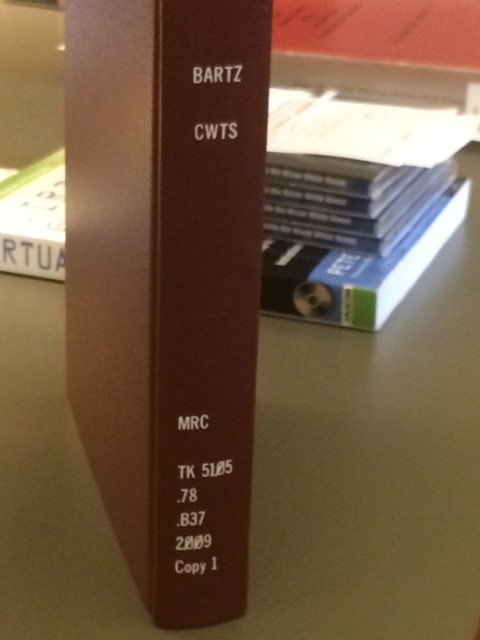 What an amazing place. I remember reading about the library and seeing parts of the library in several movies but to be there in person was such a great experience. After some research, I was able to find the general area where the copy of my book was housed and I asked someone there if I could take a look at my book. One thing I did not realize was that I needed a library card so I could check out the book. How cool is that?! 
After getting library cards we worked our way back to the building where the copy of my book resided. I completed the checkout slip and handed my card to the librarian. He told us that they would have to retrieve the book and it would take about an hour. We returned after grabbing some lunch and were greeted with the 1st edition of the "CWTS Certified Wireless Technology Specialist Official Study Guide" by Sybex. [see image above] Wow, what an awesome feeling to see this in the Library of Congress! It was almost like it was glowing right before my eyes.
I was told by the librarian they bind the paperback books in hardcovers to protect them; A quick flip through the book showed that he was right and it was still in pristine condition.
Overall, it was a great experience to visit this amazing library in person and as a bonus to see my first CWTS book. It would have been great if Bryan Harkins, is the technical editor for all three versions of the Sybex CWTS study guides, was there to share the moment with me. His expertise and attention to detail helped me produce books that have been read by many thousands of people worldwide and helped to educate them on the fundamentals of IEEE 802.11 wireless LAN technology.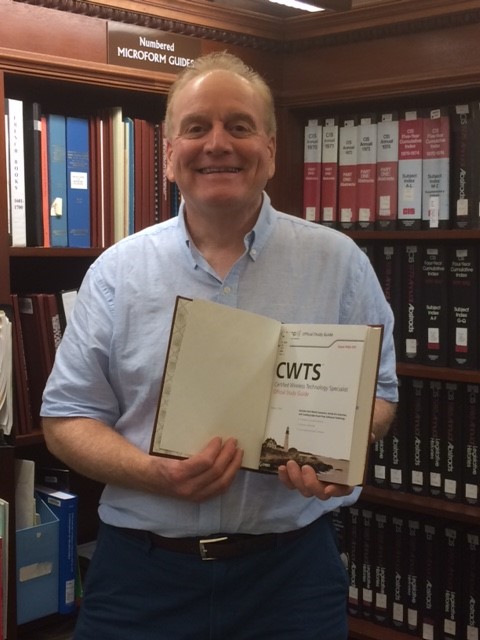 Two From One - CWS and CWT
Even though CWTS is on it's way to retirement, there are two new alternatives: the Certified Wireless Specialist (CWS), and the Certified Wireless Technician (CWT). These two certifications target different objectives based on the specific requirements of the individual wanting to gain wireless LAN knowledge.
The CWS certification validates the knowledge of wireless sales, marketing, entry-level support, and decision-making professionals related to 802.11 wireless networks.
The CWT certification is geared toward individuals that will be able to install and configure wireless access points for initial operations and ensure connectivity. Also, troubleshoot basic problems and assist users in-person or through remote communications in problem resolution along with many other tasks.
In-person and virtual live online training classes, as well as other training materials, are available for both of these new certifications to help anyone get their start in the fantastic world of wireless networking. I highly recommend the CWS and/or CWT to anyone interested in acquiring knowledge about the basics of standards-based wireless networking. I would like to wish good luck to any and all that take this first step into the world of vendor-neutral wireless LAN training and certifications which are available from CWNP.
Robert J. Bartz, CWNE, CWNT
Author, CWTS Certified Wireless Technology Specialist Official Study Guide, 1st and 2nd Editions
Author, CWTS, CWS, and CWT Complete Study Guide, 1st edition
Author, Mobile Computing Deployment and Management: Real World Skills for CompTIA Mobility+ Certification and Beyond, 1st Edition
www.eightotwo.com
@eightotwo
Tagged with: CWTS, CWT, CWS, Library of Congress

Blog Disclaimer: The opinions expressed within these blog posts are solely the author's and do not reflect the opinions and beliefs of the Certitrek, CWNP or its affiliates.