Ekahau Mobile Survey
By CWNP On 12/07/2010 - 53
Comments
I bought an iPhone 4 and I generally like it, but Apple's restrictive Wi-Fi API (and their app approval policies) chaps my hide. I'm sure it chaps the hide of all Apple iOS device users that read the CWNP blog. If I dwell on that topic, it irritates me. But, that's their prerogative, and that's also the beauty of a free market. As Apple's main competition in handset software, Android has a much more open approach to the 802.11 API, and for that reason, there are already a load of basic Wi-Fi apps out there like WiFi Analyzer and WiFiFoFum. While helpful, these apps are all fairly basic and consumer oriented. Enter Ekahau Mobile Survey.
Taking advantage of the open API from Android, Ekahau has announced a mobile Wi-Fi analysis, monitoring, and surveying product, called Ekahau Mobile Survey. Mobile Survey takes the core features you need from a Wi-Fi troubleshooting tool and it puts them in your pocket. As you'd expect, it does the traditional WLAN discovery bit and provides a list of APs (by MAC), SSIDs, security, operating channel, and signal strength.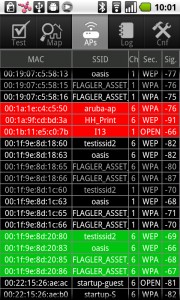 It also provides a little more insight into your handset's active association. That is, the handset's MAC, the AP's MAC, SSID, security, channel, signal strength, data rate, etc. You also get network details such as IP address and netmask, gateway, DNS, and DHCP lease duration. These are important stats that allow manual troubleshooting to go a step further than most of the consumer Wi-Fi apps. With these details, you can identify that all the proper association steps are occurring and that the network services are working correctly.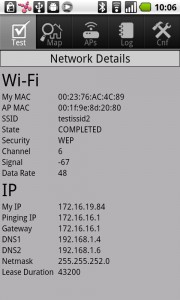 Of course, manual troubleshooting is so 2008. The real value of Mobile Survey is the automated passive and active "survey" process, the network validation. Let's start this discussion with a graphic for reference. Give it a quick review, and please, read on.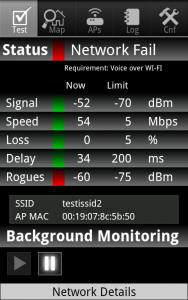 You can see that the network status (of the handset's current association) is "fail." Mobile Survey uses the metrics shown in the graphic (signal strength, data rate, loss, delay, and rogue signal strength) as the criteria by which it qualifies a network. Ekahau provides default profiles with varying connectivity requirements based on the network services, such as basic data, high-speed data, voice, and RTLS. You can also customize these requirements according to your design needs. The "Limit" column is the criteria to be met in order for the network to "pass."
You may have noticed that metrics like delay and loss are active data points. They require an active connection, and they're based on ping packets sent to either the gateway or a user-configured address. Admittedly, ICMP packets don't look like voice packets and they may not be prioritized with QoS, but they're still sufficient for testing these performance metrics. Of course, Ekahau doesn't expect you to replace all of your full-featured laptop tools with a mobile product, but mobile products have their advantages. For example, your phone is always in your (or your front line troubleshooters') pocket or on your hip. Your PC isn't. Your phone is always on too.
Speaking to the "always on" nature of a mobile phone, an additional feature with Mobile Survey is that the monitoring process extends beyond a moment in time of scanning. You can configure background scanning, where the application continues to monitor the active connection at regular intervals and then notifies you, via email or alert tones/vibrations, if a failure status occurs. For monitoring purposes, this extra layer of assurance may help identify trouble areas before your users find them and start whining, which causes the help-desk to start whining, which causes your boss to start whining, which causes you to start whining.
Since Ekahau already has a laptop survey product, their intention isn't to steal users from the laptop survey market. The mobile product is a supplement, and if you're already an Ekahau Site Survey user, you can import your existing Site Survey maps and AP data into Mobile Survey to identify the AP to which you are connected, which should facilitate further network troubleshooting efforts as needed.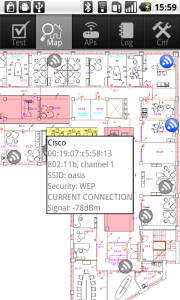 There are always advantages and tradeoffs when an application goes "mobile." In addition to those mentioned already, the three primary points of interest are these:
One of the big problems with using laptops to validate networks is that laptop NICs and antennas are usually better than mobile phone NICs and antennas. By "better," I mean that they typically have better receive sensitivity, more performance features, more ideal antenna structure/location, and more transmit power. For those reasons, validating handset performance based only on a laptop's perspective is not always ideal. In ideal circumstances, you'd use your survey software to validate actual user traffic from the actual devices (such as tablets, smartphones, VoWiFi handsets, barcode scanners, etc.) that will be used. Surveying with a handset that more closely resembles (or is the actual) the devices used on your network is a benefit to accuracy.
The writing is on the wall for the use of Android tablets in many different enterprise Wi-Fi applications. WLAN surveying and analysis certainly fit that category. When I asked Ekahau about their plans with tablets, they said (paraphrase) that they are still exploring those possibilities, but their release blog seems to indicate that they are already supporting tablets, like the Samsung Galaxy Tab. It seems like a natural next step since they've already put in a lot of the initial development work. For analysis and surveying, tablets are generally more flexible and capable due to their interface, size, and WLAN chip and antenna improvements. A tablet version also has more potential to replace laptop tools.
As I think about the many merits of the Mobile Survey software, I have to keep in mind that this is a mobile phone application that is handcuffed to the hardware on which it runs. Chief among the limitations is that most mobile phones today are still 2.4 GHz only, and many are still only 802.11b/g, like my Nexus One. The 2.4 GHz limitation may be a painful obstacle for enterprises with dual-band networks to overcome. Tablets should also address this problem since the tablet trend seems to be dual-band 802.11n chipsets.
In sum, don't expect Ekahau Mobile Survey to give you bit-level packet traces or full site surveying capabilities. That's not the goal. Again, it is a supplement to the professional laptop tools. However, many environments could benefit from the added convenience, accessibility, and monitoring of a mobile phone app that is always with network professionals, especially first responders and on-site techs that don't specialize with Wi-Fi. It's inexpensive and it's packaged just right to collect the fundamental information that says either your network works or it doesn't.
Congrats to Ekahau for introducing the first product of its kind. I'm sure there are more good things to come along these lines. :)
For more information about Ekahau Mobile Survey, start here.
Tagged with: site survey, Ekahau, troubleshooting, WLAN, Ekahau Mobile Survey, Android, mobile, analysis

Blog Disclaimer: The opinions expressed within these blog posts are solely the author's and do not reflect the opinions and beliefs of the Certitrek, CWNP or its affiliates.