Interesting Wi-Fi Use Case: Trail Cameras
By CWNP On 09/15/2011 - 13
Comments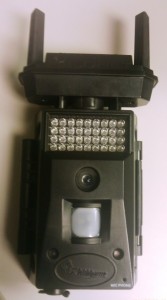 I just had to write this blog because I'm an outdoorsman (hunt, fish, camp, etc.) and Wi-Fi is showing up there. I spend many mornings and evenings in the fall season up in a tree, bow hunting. If you're not familiar with the practice, bow hunting season begins in the fall (October 1, in Michigan), but if you're really avid, you spend time in the spring and summer scouting likely deer trails, bedding and feeding areas, scrapes, rubs, transitions, etc. Given my interest in the wild places, I also subscribe to Field & Stream magazine, which recently featured a "Gear Tip" highlighting the use of Wi-Fi enabled trail cameras.
A lot of hunters get worked up about deer, so they mount trail cameras in strategic locations in the woods trying to catch a glimpse (and hopefully understand the patterns) of a big buck. The trail cameras use infrared and heat sensors to detect an animal and trigger a snapshot or short video of the animal. In the past, hunters had to periodically check on the physical camera and download the pictures from the memory card. But in our modern era, who wants to travel all the way to each trail camera in the woods when radio waves can travel for us?
The newest trail cams include optional Wi-Fi add-on modules that will transfer your pictures/videos wirelessly without requiring you to visit the camera. The range of one such module is about 300 feet, which isn't all that much from a functional standpoint. But, it would allow the hunter to access the images from a nearby location (perhaps a truck in a nearby field) without attracting attention to the camera's location.
I try not to use much technology for outdoor sports, but it's interesting to see adoption of Wi-Fi in interesting use cases. In past years, trail camera manufacturers incorporated cellular radios, allowing mobile downloads from a PC at home; but where cellular goes, there subscriptions also go, increasing the overall cost. With Wi-Fi, the range is limited, but there's no recurring cost.
You'd expect battery drain to be a problem, so Wildgame Innovations' Wi-Fi module uses a remote control to turn the Wi-Fi module on to download pictures and then back off when you're done. Software on a laptop or mobile phone controls the download process and connectivity, which I believe uses an ad hoc connection.
I'm amazed by the ways Wi-Fi is being implemented in our lives, improving our quality of life by providing more venison jerky. Yum.
Tagged with: Wi-Fi, wireless, trail camera, hunting, Wildgame Innovations

Blog Disclaimer: The opinions expressed within these blog posts are solely the author's and do not reflect the opinions and beliefs of the Certitrek, CWNP or its affiliates.