Matt's Best Practice Guide on How to Configure Your Wi-Fi in 2022 (Guest Blog)
By
Matt Starling
On 04/20/2022
It's 2021 - I have been configuring and implementing Wi-Fi networks for the last 7/8 years and I want to share with you all my tips & tricks and recommendations on how I have been configuring my Wi-Fi deployments for customers.
First of all, a few caveats
Of course, each design and deployment is different and may/will require its own specific configurations but hopefully, you can use this as a rough guide on how to configure your Wi-Fi networks in 2022 and beyond!
No configuration can fix a bad design! Ensure you have completed a proper design - just following these recommendations alone will not give you good Wi-Fi!
Also, this blog was written before 6 GHz has really hit the market.
Let's start :)
Focus on 5 GHz
All business-critical SSIDs should be configured to use 5GHz only.
From my experience, 2.4 GHz in the enterprise space cannot be a reliable frequency that we can use for our day-to-day business-critical needs. This is because of the limited amount of frequency space we have in 2.4 GHz, limited non-overlapping channels, this frequency also propagates through material better so can be heard from farther away and lots of other non-Wi-Fi devices use the 2.4 GHz frequency band.
Single band SSIDs - why?!
It is always the Wi-Fi client's decision on which AP and frequency band it will join and roam to – we call it the green diamond algorithm, this can be simple or complex, but the decision remains in the hand of the Wi-Fi client.
We do not want to punish your good Wi-Fi clients (prob 95%+) to support the legacy Wi-Fi clients.
Truth is if the customer can afford you to be configuring their Wi-Fi or upgrading a legacy Wi-Fi infrastructure - they should also be upgrading all their legacy clients as well!
If we do need to support these legacy clients, then what I do is create two versions of my SSIDs. Create the first version of your SSID to be 5 GHz- only and have "All bells and whistles" turned on (all the fast-roaming amendments enabled) - then create a copy of that SSID and add the word legacy to the end or something similar and make this a "vanilla" SSID. 2.4 GHz- only with none of the fast-roaming amendments enabled.
For example: - Wi-Fi Ninjas Corp and Wi-Fi Ninjas Corp Legacy
Invest in your guests!
Enough is enough with open encryption SSIDs with captive portals! Nobody and I mean nobody wants to put their details into a captive portal to access some Wi-Fi.
Look for alternatives, we have had great success recently with deploying a mPSK/iPSK solution with a nice third-party integration that your guests scan a QR code on a tablet in reception to give users a unique PSK to access the Wi-Fi.
Here is a nice example below from WiFlex.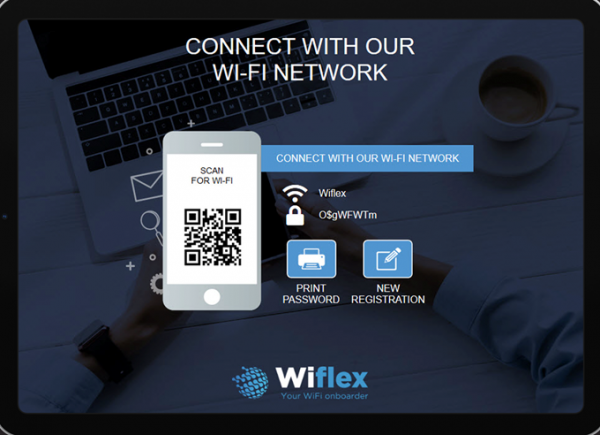 Channels & DFS
Use all available 5 GHz channels if you can! (Check for DFS and make a decision)
DFS Checklist:
- Make sure we know what DFS channels all our Wi-Fi clients support
- Check if our site is affected by DFS events and how heavily to then make a decision if we are going to use all the DFS channels or maybe just remove some.
You may be able to check the Wi-Fi client data sheet to see what channels the device supports but there is an amazing website from Mike Albano which has details of 100s of devices and their capabilities – I would highly recommend you bookmark this website & use it.
As an example, just looking at some of the iOS devices we can see that there are quite a few that do not support channel 144 – so if you were to enable the DFS channel 144 on your Wi-Fi network and one of the below devices came along, they just wouldn't be able to see your AP that is on channel 144 – therefor will probably cause you some coverage/roaming issues for this device.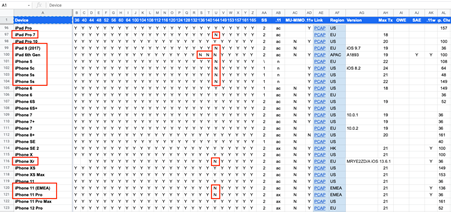 How do you check to see if your site is affected by DFS events? Review the logs on your brownfield Wi-Fi infrastructure or in a greenfield environment we will need a test mobile AP.
Looking at these logs here we can see that there are quite a few events on channel 100 – so what we might want to do here rather than not using all of the DFS channels we might want to just exclude channel 100 from our APs.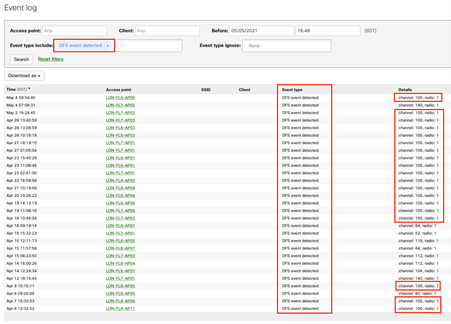 2.4 GHz - Always just use 1,6 and 11.
Channel widths
On 5 GHz the rule here is using the widest channel until you can't (do not create CCI on your own Wi-Fi)
Never, ever and I mean ever mix channel widths on 5 GHz – this could cause you to create something known as OBSS where you have primary & secondary channels overlapping with each other – which is really bad for your Wi-Fi.
You want to be safe? Just stick to 20 MHz wide! In most scenarios users are not going to need higher data rates and having a cleaner RF space is much better.
2.4 GHz – we only ever stick to 20 Mhz wide.
Let's take a closer look at the 2.4 GHz and 5 GHz spectrum:
2.4 GHz = 80 MHz of usable spectrum & only 3 non overlapping channels plus tons of non-Wi-Fi interferes live here:

5 GHz = 500 MHz of usable spectrum with up to 25 x non- overlapping channel plus+ not so many non-Wi-Fi interferes:

Control the Transmit Power levels for your beautiful Wi-Fi Access Points.
My tip here is to make 2.4 GHz max Tx power at least 6 dB less than your minimum 5 GHz Tx power - why? Inverse square law and Free Space Path Loss – this will give your 2.4 GHz and 5 GHz a similar coverage cell.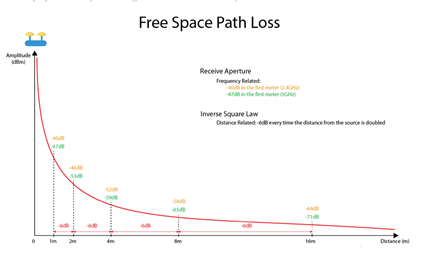 Oh, by the way, Ekahau does this for you when you first drop a simulated AP in your predictive design :)

\
We of course want to use the same transmit power levels that we did in our predictive design but typically this is what I will configure for my transmit power ranges:
5 GHz Max Tx 17 dBm - Min Tx 14 dBm
2.4 GHx = Max Tx 8 dBm - Min 5 dBm
Data rates
Disable low and legacy data rates.
Typical density environments use 12 Mbit/s as the lowest allowed mandatory rate.
High-density environments use 24 Mbit/s as the lowest allowed mandatory rate.
Client Load Balancing
We should be using single-band SSIDs but if for some reason you cannot then you might see a feature called something along the lines of "Client load balancing" - I do not like this feature as I have seen some clients ungracefully disconnected from the Wi-Fi in the middle of a time-sensitive application (Voice or video call) as the AP decides they have enough clients connected so it's going to move this client on to another AP!
Turn on AP hostname broadcasting!
This just makes your life easier when doing your post-deployment validation survey to check that all APs are installed in the correct place and also for troubleshooting.
Do not go crazy with the amount of SSIDs on your radios/frequencies.
SSIDs are sent out in the beacon frames, beacon frames are sent out 10 x per second per SSID, per radio & as these are management frames they are sent at the lowest configured mandatory rate - so even without any Wi-Fi clients - too many SSIDs can create lots of channel utilization.
Typically, you would not need more than 3-4 SSIDs per radio/frequency.
Here is a table with some example SSID configurations.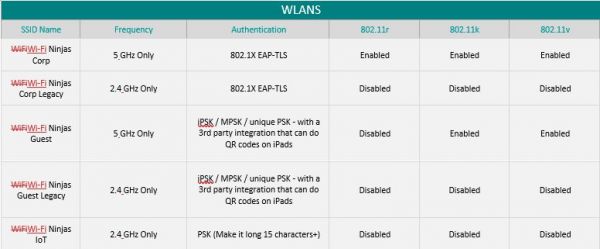 Remember always, always do a post-deployment validation survey to ensure that everything is working as expected, and make sure you test the Wi-Fi network with real client devices using real client applications.
That's it - that's all my top tips/recommendations for how I mostly configure my customers Wi-Fi networks now :)
Tagged with: wireless, how to, configure, wifi, networks

Blog Disclaimer: The opinions expressed within these blog posts are solely the author's and do not reflect the opinions and beliefs of the Certitrek, CWNP or its affiliates.