Meritorious Meraki: A Review
By CWNP On 01/29/2010 - 13
Comments
"Simplicity, simplicity, simplicity! I say, let your affairs be as two or three, and not a hundred or a thousand; instead of a million count half a dozen…" – Henry David Thoreau, Walden When I first logged into the Meraki management platform (i.e. Meraki Cloud Controller – MCC) and spent a few minutes observing the high-level organization of their interface, the previous Thoreau quote came immediately to mind. As a staunch believer in simplifying life, I must say that Meraki took Thoreau's words and applied this principle to their solution, including the GUI.
As introduction to the company, Meraki was started by, and is run by, some smarty-pants Ph.D. types from M.I.T. (I say that with admiration and possibly a tad of envy). Their initial claim-to-fame was brain-dead mesh, but as they've grown, they've also embraced specializations in several public Wi-Fi areas, such as hotspots, residential complexes, and hospitality, among others. You may not have seen them battling for the biggest enterprises, but they've tailored their solution for ease-of-use, and not for extreme feature richness, something that keeps them happy in the SMB, SME, and even SOHO marketplace.
The Meraki slogan is "Wireless Networks that Simply Work," and they deliver on this campaign buzzphrase with exceptional simplicity. You want to deploy reliable Wi-Fi with as little expertise as possible? Meraki may be your best bet. They've taken the technical workload off of administrators and put it on the shoulders of their developers by providing automation. They set the default configuration to the most basic and common feature set and from there, they KISS—the acronym, not the action.
Just to clarify, in this case, simple is not to be confused with featureless. It would probably be more closely correlated with automation. They're still supporting many of the features we might expect from an SMB/SME player with distributed AP intelligence: band steering, automated channel and power selection, automated mesh failover (or primary backhaul, depending on the need), hosted management, and nice captive portal options to name a few.
Speaking of captive portal options, this configuration section was refreshingly intuitive. You configure a "splash page," assign a specific access control policy to the SSID, and you're all set. The access control configuration section includes some of the most common features for captive portals as well, such as captive portal authentication or basic acceptance of a use/abuse policy. Then you can also define just how much (and what kinds) of network traffic is blocked before users are finished signing on through the captive portal. For billed services—you have complete control to select cost/time (i.e. price per time) and currency units—Meraki collects the funds for you and then distributes the money to an account at predefined intervals.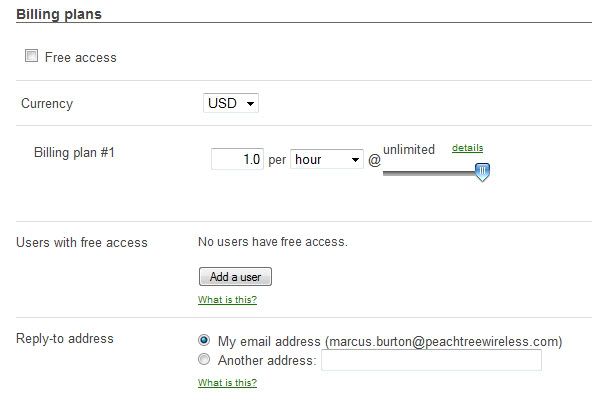 As we've seen other vendors doing recently, Meraki offers their management platform as a hosted (SaaS) solution. In fact, I believe they pioneered this approach for WLANs; their MCC is exclusively cloud-based. Again, for Meraki it all comes back to ease-of-use. No controller to manage and maintain, no split-MAC considerations to make, and APs automatically tunnel to the hosted management server for configurations and monitoring. You add APs to a location—in the MCC—by entering device serial numbers or an order number, in the event that you purchased a large number of APs. I used the latter method, and 1, 2, 3, each AP they sent me showed up as a managed AP. I fired up the APs and less than a minute later, they were active in my management dashboard. Along with the other hosted-management folks, Meraki will be quick to tell you about the cost savings involved here. Of course, you pay for licensing (on indoor APs), but the CAPEX v. OPEX equation is balanced out a bit.
It may go without mentioning, but I should provide a balanced perspective here. As I mentioned earlier, simplification is the name of the game with Meraki. Of course, this means that many advanced configuration options and controls are hidden from administrators. Some folks simply won't like this, and that's ok. For my own uses, I prefer lots of configuration options. Meraki wants to keep the configuration uncluttered for less experienced administrators. Advanced configuration control and features can be requested from the company as customers have need. This was my only initial hang-up with the products, but it really all comes back to the customer. If they don't want it, why cause unnecessary confusion by including it. Large enterprises are the most likely places to find dedicated WLAN administrators, so this is really an effort of catering to the non-experts. When the SMB is the sweet-spot, why turn them off with complexity?
As for performance and reliability, I did only simple testing in my home lab. I didn't see any connectivity or stability issues over a few weeks of testing, even across multiple client adapters and chipsets. Throughput was about as expected (peaks near 140—though I never see the 190s and 200s that vendors claim) with high variability between client devices—I've found that this is normal… more to come on that topic. I did not test system load—reflective of a real-world multi-AP and multi-client environment—so I cannot adequately speak to their performance in that regard.
A few other highlights that caught my eye:
· I'd be remiss not to mention that this solution is incredibly affordable. Get this, they even put the product prices right on the website…blew me away. I dream that all vendors would do so, but I guess they have their reasons.

· I'm not yet sure what the little green smiley face on the Meraki logo is all about… ;)




· The products are aesthetically pleasing. Clean, white, no gangly antennas, feels environmentally friendly, and all in an unobtrusive package.
· Since CWNP has its own (we like to think they're industry-standard) naming conventions for many technologies, vendor naming conventions often seem a little odd. Admittedly, a few of Meraki's feature names threw me for a loop, but the beautiful thing is that they have a "What's this?" expansion link right there with crystal clear descriptions. Nice and easy.
So, my compliments to Meraki for meeting their customers in the world of not too difficult and business ready.

Blog Disclaimer: The opinions expressed within these blog posts are solely the author's and do not reflect the opinions and beliefs of the Certitrek, CWNP or its affiliates.