My Chipset is Cooler Than Your Chipset
By CWNP On 01/07/2010 - 6
Comments
It would seem that 802.11n has initiated a parade that looks more like the running of the bulls at Pamplona than the Macy's Thanksgiving Day Parade. Chipset manufacturers, then vendors, are racing for their lives to capitalize on the technical goods introduced by 802.11n. This morning Intel announced a litany of new core processors, including four new Centrino 802.11n Wi-Fi chipsets, one of which integrates WiMAX. At face value, the basic tech specs don't look much different than their previous set (Intel 4965, 5100, 5300, 5350) of 802.11n adapters, but I'm sure that performance and efficiency are improved.

http://www.intel.com/pressroom/archive/releases/2010/20100107comp_sm.htm#story (Copyright Intel, 2010)
As with most modern enhancements, the marriage of performance and efficiency is continually leaning in favor of efficiency. I can only guess that one of Intel's primary motivators in their new processors was to consume less power and still improve performance. Efficiency is slightly more difficult for us to measure when compared with throughput enhancements, but valuable nonetheless. I've read in some other product reviews that encryption and decryption performance (including AES and SHA) is considerably enhanced in these products as well.
If you're not already familiar, Intel's new wireless adapters also use a fresh form factor called the Half-Mini Card. By now Mini-PCIe is nearly ubiquitous as an internal card form factor, but the PCI-SIG realized that wireless technologies were growing rapidly enough that multiple wireless adapters may be needed inside a single computer. Thus, Mini-PCIe was no longer mini enough and a Half-Mini form factor was created.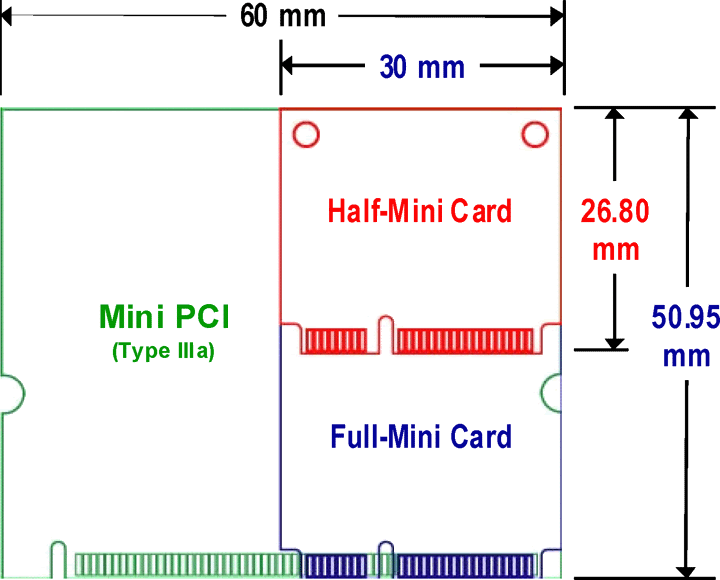 http://www.intel.com/technology/itj/2008/v12i3/5-paper/3-specification.htm (Copyright Intel, 2010)
As you can probably tell from the graphic, the Half-Mini form factor was designed to be backwards compatible with the traditional Mini-PCIe, or Full-Mini Card. Intel has a good read on their use of the Full-Mini form factor where you can learn all about the relative thermal densities of wireless applications, heat dissipation, and the impact volume reduction has on circuit components. It's why their rock stars aren't like our rock stars. :)
So, we've got performance enhancements, efficiency enhancements, smaller form factors… what else? Lower price? Don't count on it. It's like the sign on the wall at my local mechanic's shop—Price, Speed, Quality: Pick two.
As comparable adapters to their current set, expect to see the Wireless-N 1000 choice for netbooks and other small footprint and power conserving laptops. The Wireless-N 6200 and 6300 adapters should compete nicely in mid-range and performance-oriented devices, and the 6250 will serve nicely for a blended mobility and performance set.

Blog Disclaimer: The opinions expressed within these blog posts are solely the author's and do not reflect the opinions and beliefs of the Certitrek, CWNP or its affiliates.