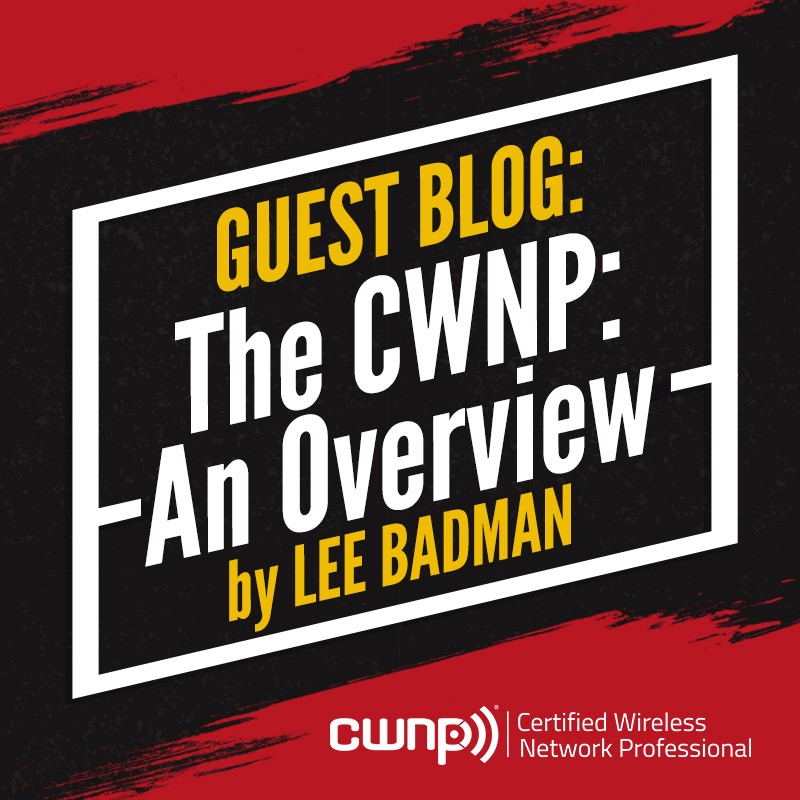 Guest Blog: The CWNP: An Overview by Lee Badman
By
Lee Badman
On 04/27/2016 - 34
Comments
A look at the vendor-neutral WiFi certifications offered by the Certified Wireless Network Professional program.

The wireless networking space is an interesting dichotomy of time-proven RF physics and ever-evolving feature sets that can be difficult to keep up with. Solid training is the key to career survival for those of us who build and manage WiFi networks. One training option used by many WiFi pros is the Certified Wireless Network Professional (CWNP) program.
Unlike vendor-specific training, CWNP is vendor-neutral and has several specialized certificate tiers that provide instruction on crucial principles that apply to every WLAN environment. This isn't to say that CWNP is better than vendor WiFi training from the likes of Cisco and Aruba Networks, but CWNP instills a depth of understanding of universal wireless system principles that you just don't get anywhere else. WLAN vendors are about teaching people configurations and specific system feature sets, whereas CWNP provides a foundation on which any vendor's training can build.
The CWNP program offers several certifications, starting with the entry level Certified Wireless Technology Specialist. CWTS is an introductory course aimed at those brand new to wireless, and is designed for wireless sales staff and senior project managers who need to understand the technologies they are selling. Moving up in difficulty, the Certified Wireless Network Administrator (CWNA) course is an administrator-level certification for network staff who need to understand concepts such as how Ethernet and the 802.11 standard work together, RF behavior, site surveying, installation, and basic enterprise WiFi security. Many WLAN pros build entire careers on the CWNA certificate alone.
Beyond CWNA, the Certified Wireless Security Professional (CWSP) focuses on everything from legacy WLAN security mechanisms to 802.1X, VPN, MDM, and intrusion prevention as they apply to wireless. It's challenging, but thorough. Certified Wireless Design Professional (CWDP) is designed for those who plan and build business-critical WiFi environments, and covers everything from QoS on Voice over WiFi to Point-to-Point bridging.
The last CWNP certification that requires passing an exam is the Certified Wireless Analysis Professional (CWAP). This course takes an in-depth approach to the complexities and nuances of packet and frame analysis of the modern WLAN. Unlike "sniffing" on Ethernet networks, WiFi networks can be confounding to analyze at the packet level, given the various data streams that occur with multiple antennas in use and dozens of 802.11-specific frame types. CWAP is considered an advanced career certification.
Those who achieve CWNA, CWSP, CWAP, and CWDP are eligible to apply for the prestigious Certified Wireless Network Expert (CWNE) certification, which is awarded after stringent application criteria are reviewed by a CWNE review board staffed by industry experts who are also CWNEs. There are currently fewer than 200 CWNEs in the world, and most tend to hold senior WLAN positions.
As the WLAN industry evolves and the standards that shape WLAN change, CWNP does a decent job of staying current with curriculum refreshes and by requiring certification holders to retest every three years at their most advanced certificate level. In the very near future, CWNP will introduce a new annual Continuing Education program that will provide an alternative to the three-year testing requirement. Another fairly new addition to the CWNP program is the event in New Orleans from 26-30 September, 2016.
On a personal note, I have both the CWNA and CWSP certifications, and will soon test for CWDP on my journey to CWNE. I also have taught training courses for the CWNA and CWSP. As a practicing WLAN architect who has been in the game for over a dozen years, I can say that ongoing training is important to all WiFi-related roles. Whether you're doing sales, support, or network design, what you learned in the days of 802.11b doesn't cut it in anymore now that .11ac is here. Things change quickly, and CWNP provides a way for those in the WLAN industry keep up.
Tagged with: CWNP, Wireless, Wi-Fi Certification, wifi certification, wireless certification, IT Professional, WLAN, WLAN Certification, CWTS, CWNA, CWAP, CWSP, CWDP, CWNE

Blog Disclaimer: The opinions expressed within these blog posts are solely the author's and do not reflect the opinions and beliefs of the Certitrek, CWNP or its affiliates.