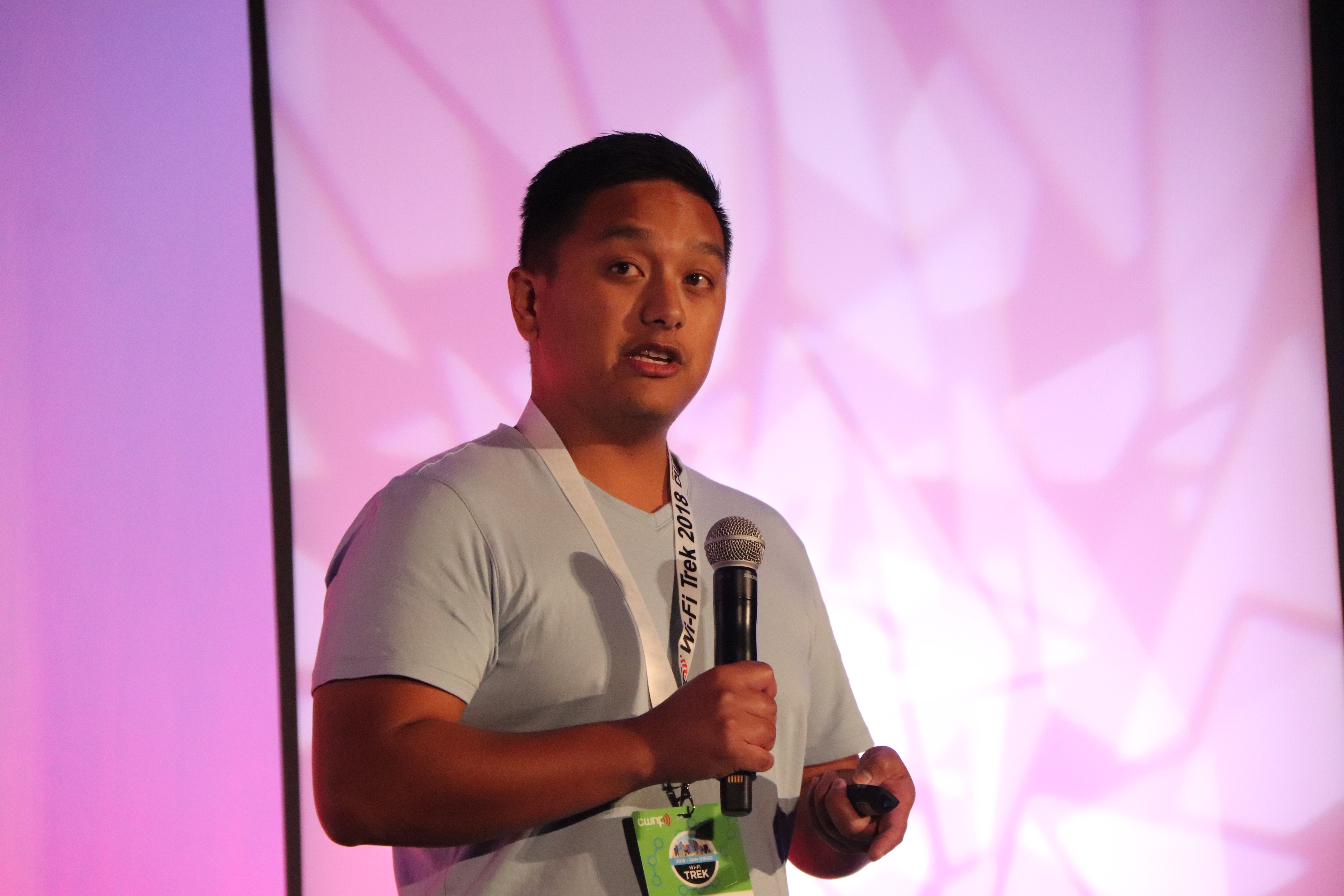 How To Succeed During and After Your Wi-Fi Certification
By
CWNP
On 02/07/2019
The world of wireless certifications is vast and at times, confusing. If you've considered getting a certification to elevate your WiFi career, you may have had questions or hesitations like these:
• Which certification is right for me?
• I'm not a good writer. They're going to decline my application because my writing is bad.
• I don't know who I'd ask to endorse or recommend me.
• What do I do after I get my certification?
Don't worry. At CWNP's annual conference Wi-Fi Trek 2018, Higher Education Network Engineer and CWNE Rowell Dionicio explained everything folks in the WiFi industry need to know about pursuing certifications.
Check out his tips, guidance, and recommendations below.
1. The best place to get certified is CWNP. Why? Because we're vendor-neutral. According to Dionicio, CWNP ensures that "you're actually helping the industry and selling the right equipment the right way." He explains that as a Wi-Fi expert, he receives a lot of marketing calls from people who have been taught to sell their equipment in a specific way, as directed by their vendor. Instead, he recommends that you pursue CWNP's CWS or CWT programs to get vendor-neutral, foundational knowledge, then work your way up to a vendor-specific certification.
2. Absorb as much knowledge as you can. If you work in WiFi now, Dionicio recommends that you immerse yourself further by taking on additional projects and exploring online resources. Tell your boss that you'd like to take the lead on any Wi-Fi projects that nobody wants, even if don't have all of the knowledge you need. Refer to blogs and podcasts to further your learning, get your questions answered, develop relationships with groups for WiFi professionals, and help familiarize your supervisors with your work (which will come in handy when you need an endorser for a certification). Dionicio recommends the following: WLAN Pros Blog, WLAN Pros Podcast, and No Strings Attached Show. He says, "I kind of put myself out there professionally by saying 'I want to take this on,' and then just gaining that experience, knowing you're going to make mistakes along the way. You are going to make mistakes. I made plenty of Wi-Fi mistakes."
3. Tools will help you. Dionicio credits part of his success with CWNP's certifications to his use of tools. "Any tool that I can get my hands on, that's what I used to actually apply what I learned in theory in the books and applied to what we see out in the field," he says. He recommends the following: Airtool, Wireshark, and Omnipeek. "Pick a client and whatever BSSID it's joining, and try to figure out what kind of communication is going between those two and maybe why the Wi-Fi is slow for you. Try to figure out why that is," he says.
4. Write for humans. If the essay portion of certifications intimidates you, don't worry. Dionicio assures you that he isn't a good writer either and he was able to get certified. His advice? Write about your real-life experience in the field. "I actually capture and save everything that I have for the purpose of sharing to other people of what I've found and I apply that to each of the essays," he says. Also, keep the essays short. "You don't have to write a novel. Keep it to about two pages max. Demonstrate what you've learned from the certifications that you just acquired." And remember that humans are reading your essays. "They want to know and find out if you understand the material, understand how to even demonstrate what you've learned, and apply it in a way that educates others." You need to demonstrate that you can speak on a human level, as others will look to you to explain and solve their WiFi problems. He also encourages you to include images, a spectrum graph if appropriate, or other visual representations to support your written analysis.
5. Find an endorser who knows your work. You do not need all CWNEs to endorse you. "It doesn't matter if they're a CWNE or not," Dionicio says. When he was pursuing his certifications, he asked a colleague with whom he worked the closest on several projects, his manager, and a CWNE who knew his work well. You should find people who know your work and who can say, "Yes, I trust this person to do expert-level WiFi."
6. Use the certification to continue learning. According to Dionicio, "After the CWNE, I find that that's when you actually start learning. The certifications gave me this foundation of WiFi but then with that foundation I started discovering things I didn't know. There are a lot of things I don't know about Wi-Fi." So, use your certification not as an ending, but as a starting point to go even deeper into WiFi topics and serve as a role model in the community.
Learn more about Rowell Dionicio and his love for WiFi tech by following him on Twitter @rowelldionicio.
View Dionicio's full presentation here.
Stay on top of the latest WiFi tech developments by exploring our certification programs.

Read more:
Ethics, Integrity, and the CWNE Process
CWTS: Almost Gone but Not Forgotten
The Quest to Become the Next CWNE - EKAHAU Wi-Fi Blog
Tagged with: CWNP, Certification

Blog Disclaimer: The opinions expressed within these blog posts are solely the author's and do not reflect the opinions and beliefs of the Certitrek, CWNP or its affiliates.